Co přinese dnešní Fed?
Dnes zasedá Fed a je to poslední zasedání před ostře sledovanou konferencí v Jackson Hole. Může Fed oznámit další vlnu kvantitativního uvolňování? Nebo počká až na Jackson Hole? Nebo neudělá vůbec nic?
Podle analytiků z firmy Nomura je možné oznámení QE3 co nejdříve. Níže uvedený graf stojí za pozornost.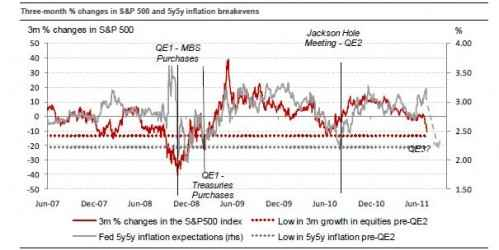 Podobnost aktuálních údajů s daty v době oznámení QE2 resp. QE1 není zanedbatelná. Inflační očekávání jsou velmi podobná těm před oznámením předchozích QE. Inflace se tak po zkušenostech s minulým vývoje Fed podle všeho bát nebude. Také vývoj cen akcií je podobný. Před rokem činil pokles 13%, letošní po započtení včerejšího propadu je na 16%. Mimochodem, jak jsem včera večer psal na facebook a twitter, včerejší propad S&P 500 je šestý největší v historii.
Co přesně řekla Nomura:
Although QE has been effective in lifting asset prices as a band-aid, its impact on expectations of balanced, durable growth remains an open question. Some have argued that the consequences of the form of QE used so far have been negative for global growth via higher commodity prices. Repeating the experiment in exactly the same way may not be as easy as the discussions we have had with clients would suggest – especially now that we have hard evidence that other global market participants are nervous about fast USD weakening.

However, all this ignores the other major difference from 2010 – increased sovereign risks. How those play into monetary policy decisions is not clear yet – more or less supportive of accommodation? It is this uncertainty that makes us nervous about ascribing a high probability of QE3 as a risk market saviour – or that if it is a relative game, that substantial further pain/systemic risk is required in risk assets if inflation expectations do not decline in tandem.
Po zítřejším zasedání Fedu není plánována žádná tisková konference, čeká se jen tiskové prohlášení. Investoři tak budou studovat každé slovo, jakoukoliv odchylku oproti minulému prohlášení. Proto přidávám klíčové věty z červnového prohlášení:
… the economic recovery is continuing at a moderate pace … The slower pace of the recovery reflects in part factors that are likely to be temporary … Inflation has picked up in recent months …

The unemployment rate remains elevated; however, the Committee expects the pace of recovery to pick up over coming quarters and the unemployment rate to resume its gradual decline … Inflation has moved up recently, but the Committee anticipates that inflation will subside to levels at or below those consistent with the Committee's dual mandate as the effects of past energy and other commodity price increases dissipate. …

… The Committee continues to anticipate that economic conditions–including low rates of resource utilization and a subdued outlook for inflation over the medium run–are likely to warrant exceptionally low levels for the federal funds rate for an extended period.
V červenci ve vystoupení před Kongresem B. Bernanke uvedl, že případné QE3 bude záviset na dvou faktorech současně – na ekonomickém oživení a na míře inflace či deflace. Klíčové tak bude sledovat, zda a případně jak se změní hodnocení těchto dvou faktorů.
Vzhledem k vývoji v posledních dnech bych nějakou formu podpory od Fedu očekával. Možná Fed neoznámí přímo QE3, ale podle mě to směřuje alespoň k "QE 2,5". QE3 by pak mohlo být na řadě zřejmě při pravidelném projevu v Jackson Hole v posledním srpnovém týdnu.
Jak to celé dopadne se dozvíme dnes odpoledne. Ceny akcií i drahých kovů budou podle toho reagovat.
Štítky: deflace, Fed, Makro analýza, QE, Zlato